For Sale – $12,00 ono – ph Matt Bryant 0468925835 or email matt@mgbryant.com
Megisti a circ 1982 Seaway 25 MkII Version in great condition.
Has a full fibreglass liner in the cabin. Nice clean layout.
Doug Peterson designed cruiser / racer.
Great sails New No 1, New Main, all in Mylar.
Spinnaker gear including 2 spinnakers, pole, fractional halyards.
Megisit has a great winning way with many trophies but also is comfortable below and easy to sail.
Built in (circ 1982) Fibreglass for easy maintenance these boats are renowned for their performance and seaworthy ability.
Located Rushcutters Bay an inspection is highly recommended.
The Boat is being sold due to upgrading and represents a bargain price for entry into a quality boat that is well setup.
Antifoul and inspection just completed offers are invited.
Complete with near new 9.8hp Ultra Long shaft outboard.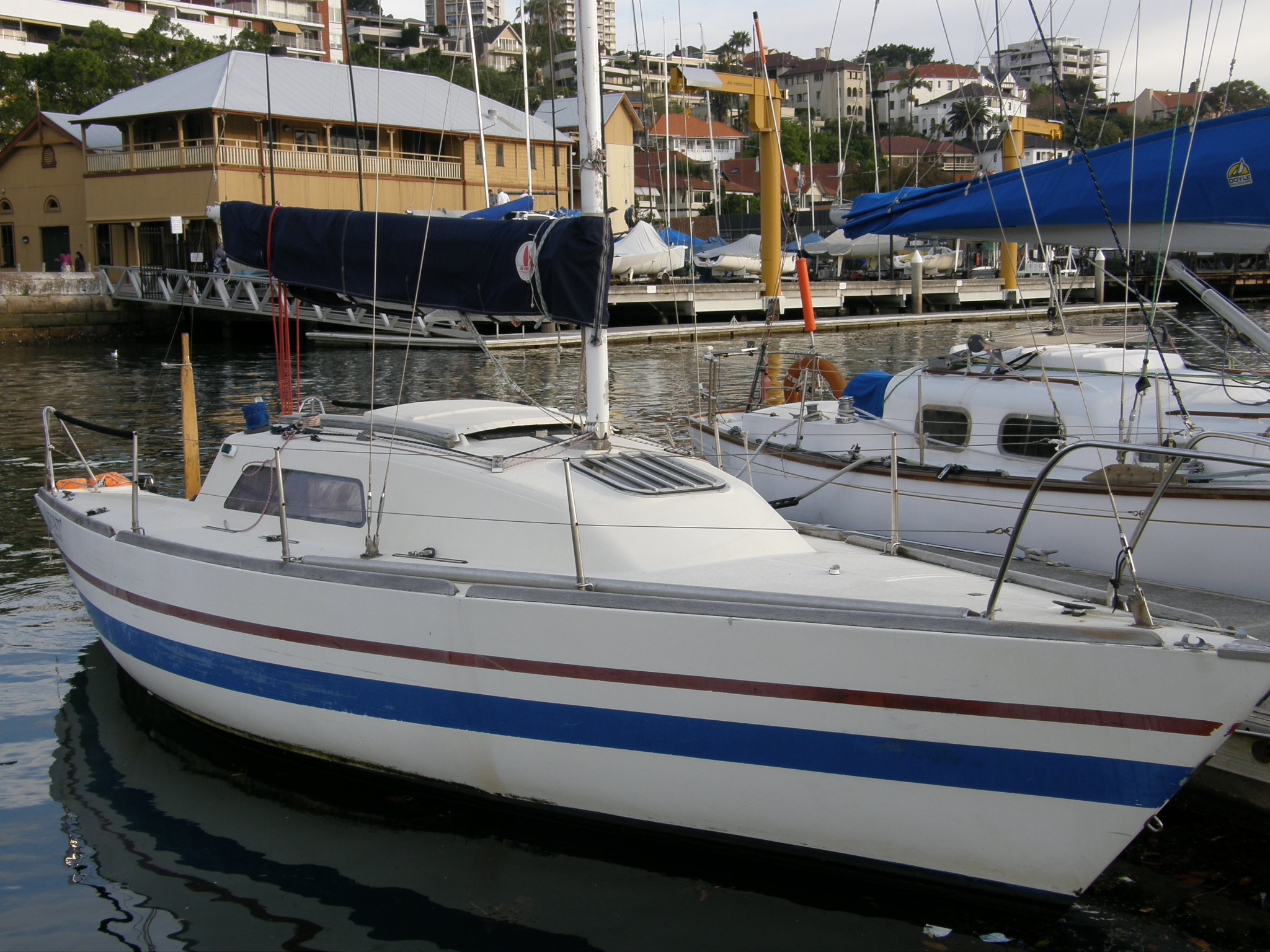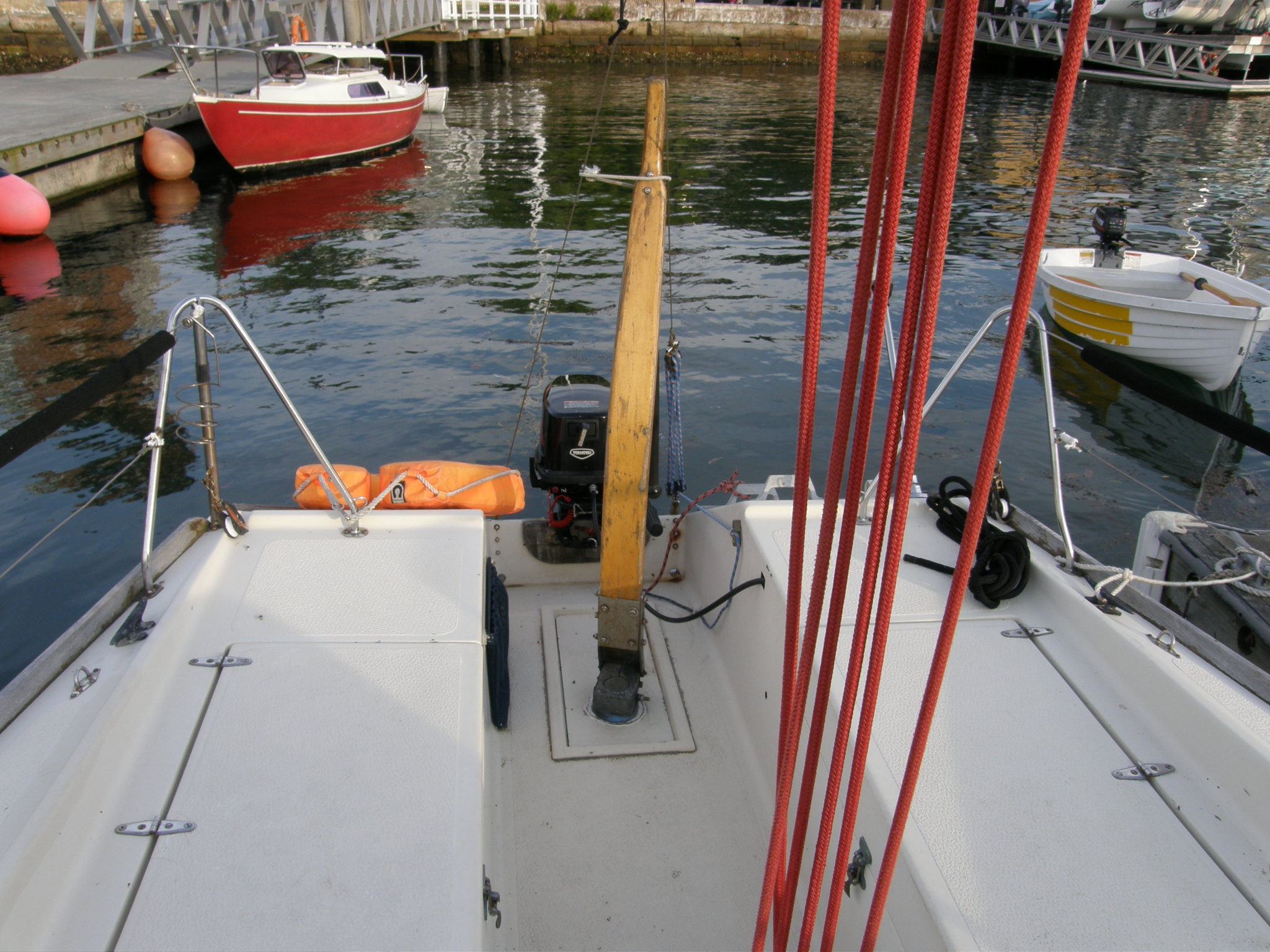 Seaway 25
From Wikipedia, the free encyclopedia
The Seaway 25 was designed by Doug Peterson of USA fame for Tom Stevenson in 1978 after Tom won the World half Ton championship in one of Doug's designs. The yacht was designed to sail well on the short sharp chop of Port Phillip Bay Melbourne Australia. Intended to rate as a quarter ton Trailer yacht under IOR and Junior Offshore Group racing both for Harbour and Inshore Yacht racing.
LOA Length
25 ft 10 in (7.87 m)
Length waterline
21 ft 2 in ( 6.45 m)
Beam Width
8 ft 1.5 in ( 2.49 m)
Draft Board down
5 ft 0 in ( 1.52 m)
Draft Board up
1 ft 1 in (0.33 m)
Displacement
2800 lb ( 1270 kg) light
Ballast
1300 lb ( 590 kg)
Tow Mass
2800 lb (1270 kg)+ trailer + gear
Rigging
3/4 Fractional rig sloop
Mast
30 ft 0 in (9.55 m) (Etchel)
single, backswept spreader
Sails
Main
135 ft² ( 13.8m²)
Jib < (100%)
108 ft² ( 10.9 m²)
#1 Genoa (150 %)
162 ft² ( 16 m²)
#2 Genoa ( %)
ft² ( m²)
#3 Genoa (75 %)
82 ft² (8.32 m²)
Spinnaker
345 ft² ( 35 m²)
I = 25.5 ft (8.12 m)
J = 8.5 ft (2.7 m)
P = 27 ft (8.6 m)
E = 10 ft (3.18 m)
Handicaps; PHRF = , Portsmouth = , IRC = , IOR = 18.0 ft, (Quarter ton),
Class based Handicaps, CBH (Aust.) = 0.725 , Other = ,
Sailing Characteristics; Well balancd helm in all conditions. Safe boat in rough seas and excelled in light ghosting conditions. Stern is narrower than more recent boats and has better than normal windward performance but will plane in moderate seas.
Notable Performances; Seaway 25's took the first four places in the 1979 Geelong to Queenscliff Trailable Yacht race. The Seaway 25 team won the Division 1 Class Trophy in the 1979 Marley Point Yacht Race, a 24 hour race through the Gippsland Lakes in Victoria, with around 400 mainly trailable yachts. First in the annual Port Phillip 'Cock of the Bay' race 1978 against a large IOR fleet. Regularly raced into the notorious Bass Straight.
There are basically 4 types of Seaway 25 – the Mark 1 (commenced limited production in 1978) the Mark 2, the Elite (which commenced production in 1982) and the 787. The hull designs are the same shape, but the cabin and cockpit layouts differ.
The Mark 1&2 which are almost identical – different builders, lower cabin, semi-enclosed cockpit, twin quarter berths, and a rudder that is located through the cockpit floor. They run their sheets back to the top of the cabin. With a permanent icebox located beneath the cockpit at the companionway, and a shaped centreboard case on the Mark 1.
The Elite – These have a rear hung rudder, a higher cabin (approx 5″10 headroom at entry) and a double berth under the cockpit. Most of the Elites have slightly different layouts, some have V-berths, others none. The cockpits are totally open, and there is no "coaming" around the sides. They are extremely large and wide compared to most other trailer sailers and can seat 6 comfortably. The sheet winches are located on the "seat/side decks". There is a fixed "window" port in each side of the hull.
The 787 was primarily produced as a cruiser has a similar hull/cockpit to the Elite, but the sides of the cabin are pushed out giving a more spacious feel inside, but reduced side deck area, not as convenient for racing.
Both the Mark 1 & 2 and the Elites have an open centreboard case, with the keel rising up into the cabin, which supports a folding table. The head is located ahead of the keel case bulkhead. The 787s have a keel that rakes forward (at approx 75 degrees) into the forward V-Berth. The keel is totally encased, opening through the cabin roof. The head is located beside the keel case.
Accommodation
Number of crew to race = 4 or 5, Berths = 4 or 5, Galley = 2 burner spirit stove, icebox, sink, Head = portable under v-berth, Navigation = folding table in salon, Maximum headroom =5′ 10″ (1.86 m) Elite and 787, Different layouts between models and some owner finished layouts.
Special features
Rudder is fitted via a removable box in the cockpit sole in early boats which provided for fine balance. However not as conveinient in shallow water or approaching a beach. Later models have stern mounted lifting rudder. Open stern cockpit. Centreboaard Aerofoil vertical lifting with pulley system. Original ballast was 1200 lb moulded in the floors with 100lb in the centreboard, later models have 300 lb in centreboard. Outboard engine on stern centreline in early models, on bracket in later models.
Construction
Country of origin, Melbourne Australia. Hull material, moulded solid fibreglass. Manufacturer, Stevenson Yachts Melbourne. Plans availability, No
References
Magazine "Trailer Sailing" 1985, No 3, page 83, Publisher Michael Hannan
External links
Class Association and photos here